The following is an excellent article written by Amanda Terkel on the Huffington post website on July 13, 2018 titled "Trump Told Russia To Get Clinton's Emails. The Same Day, They Obeyed." and I quote:
"Trump Told Russia To Get Clinton's Emails. The Same Day, They Obeyed."
A new indictment from Robert Mueller reveals that Russia appeared to be listening to what Trump wanted.
In the morning of July 27, 2016, Donald Trump encouraged Russian hackers to find emails that had been deleted from Hillary Clinton's private server that she used while serving as secretary of state.
"I will tell you this, Russia: If you're listening, I hope you're able to find the 30,000 emails that are missing," Trump said at a press conference in Florida. "I think you will probably be rewarded mightily by our press."
Russia appeared to be listening and heeded Trump's call, according to a bombshell revelation on Friday. A grand jury convened by special counsel Robert Mueller indicted 12 Russian intelligence officials for their involvement in hacking the Democratic National Committee during the 2016 election.
The indictment states that on July 27 ― the same day as Trump's press conference ― Russian hackers, "for the first time," attempted to break into email accounts, including those used by Clinton's personal office. Notably, the indictment specifies that the hack happened in the evening, meaning the Russian officials could have done it after Trump's press conference.
Around the same time, they also tried hacking the Clinton campaign ― although the hacking of the campaign began earlier, before Trump's call.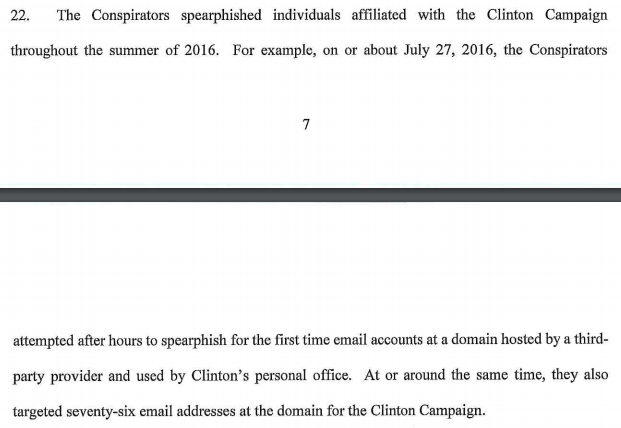 Shortly after his press conference, Trump tweeted about his comments, adding that the hackers should share the emails with the FBI ― something he left out of his initial remarks.
The White House played down the revelations in the indictment, saying there was no evidence that anyone on the Trump campaign knowingly colluded with Russian officials.
"Today's charges include no allegations of knowing involvement by anyone on the campaign and no allegations that the alleged hacking affected the election result," said White House spokeswoman Lindsay Walters. "This is consistent with what we have been saying all along."
"We know that the Trump campaign and the Russians were in constant contact during the campaign, and it is increasingly apparent they were in fact coordinating their efforts," said Max Bergmann, the director of the Moscow Project at the Center for American Progress. "That's what collusion looks like.""
(REPUBLICAN PRESIDENT DONALD TRUMP ASKED COMMUNIST RUSSIAN PRESIDENT VLADIMIR PUTIN IF THEY HAD ANYTHING OT DO WITH THE 2016 ELECTION AND THEY SAID NO.  PRES TRUMP SAID THAT'S GOOD ENOUGH FOR ME.  TOTALLY IGNORING HIS INTELLIGENCE AGENCIES.
LaVern Isely, Progressive, Overtaxed, Independent Middle Class Taxpayer and Public Citizen Member and USAF Veteran