The following is an excellent article written by Greg Farrell and Caleb Melby on the Bloomberg Businessweek website on March 27, 2017 titled "Deutsche Bank In Bind Over How to Modify $300 Million Trump Debt" which was published in the April 3 – April 9, 2017 issue of Bloomberg Businessweek on page 39 titled "Deutsche Bank Is In a Bind Over Trump Debt" and I quote:
"Deutsche Bank in Bind Over How to Modify $300 Million Trump Debt"
by
and
March 27, 2017, 6:00 AM CDT
No easy way out of loans with president's personal guarantee

Changing terms could be seen as currying favor with government
What to Expect From Xi's First Meeting With Trump
Trump Endorses Flynn's Bid for Immunity in Russia Probe
A small detail in Deutsche Bank AG's loans to Donald Trump's real-estate business has turned into a headache at the bank, as its effort has stalled to restructure part of the $300 million or so in debt.
The issue is a personal guarantee Trump gave Deutsche Bank when the debt was negotiated from 2012 to 2015, according to a person with knowledge of bank discussions. The debt — on a Florida golf resort, Washington D.C. hotel and Chicago tower — is being paid. But under the agreements, if the loans default, the bank could go after Trump's other assets.
Since Trump won the presidential election in November, bankers have tried to eliminate the awkward prospect of someday collecting from a sitting U.S. president. If the bank removes Trump's personal guarantee, critics might accuse it of trying to curry favor with the president. If the interest rate rises as part of any restructuring, it could also risk the scorn of the Trump business organization.
Read more on the bank's delicate loan-restructuring discussions
What makes matters more complicated is that the U.S. government has been investigating Deutsche Bank's failure to flag trades by wealthy Russians who spirited $10 billion out of Russia. Though that investigation has no links to the president, some lawmakers and others have expressed concerns about a potential conflict for the Justice Department, which reports to the president and is investigating his primary lender.
Russian Trading
Deutsche Bank, which has admitted to compliance lapses in the Russian trading matter and said it's cooperating with authorities, paid fines to U.K. and New York regulators earlier this year to resolve those complaints. The Justice Department has declined to comment on the status of the Russia trading investigation.
Deutsche Bank declined to comment on the Trump loans.
Discussions about the loans have moved from the bank's lending experts, who were trying to strip out the personal recourse, to more senior managers, who are assessing the political ramifications of any restructuring, said the person.
Selling the loans is one option. But some buyers might be concerned about the "headline" risk, the intensive media scrutiny of anyone doing business with Trump, said one commercial banker contacted by Bloomberg.
Ownership Stake
When asked about the loans, the White House referred inquiries to the Trump Organization, which declined to comment this week. Since becoming president, Trump has handed over management of his businesses to two of his sons and has said he'll remove himself from decision-making. He retains ownership of the companies.
In December, Alan Garten, general counsel of the Trump Organization, told Bloomberg that the loans are modest in the context of Trump's multibillion-dollar empire. The personal guarantee isn't a long-term issue, he said, because the loans were structured to ultimately become standard debt backed by the property built with the loans. That's already the case with Trump International Hotel and Tower in Chicago, which now serves as collateral for the loan, Garten said.
QuickTake Why 'Emoluments' Might Mean Headaches for Trump
The $300 million or so that Trump's organization owes to Deutsche Bank represents nearly half of his outstanding debt, according to a July analysis by Bloomberg that found the mogul had a net worth of $3 billion. The loans look like deals with a high-net-worth client, with more favorable rates than would be common on building loans, according to a real-estate investor who reviewed the rates on Bloomberg's request.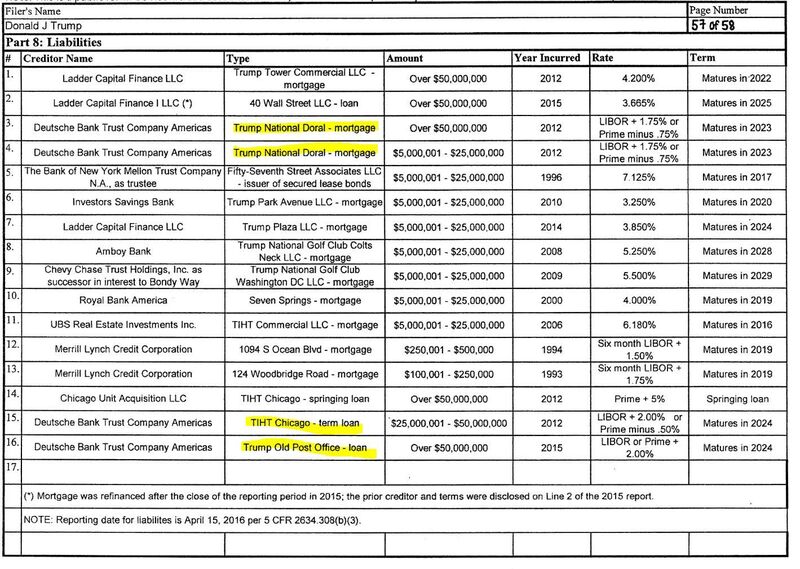 The Deutsche Bank debt includes a $170 million loan Trump took out in 2015 to finish his Trump International Hotel in Washington D.C. The organization also owes $125 million on the Trump National Doral Miami resort. The Doral debt, dating to 2012, carries a rate of Libor plus 1.75 percentage points or prime rate minus 0.75 percentage points, according to a Trump filing with the Federal Electoral Commission. The other major piece is the loan against the Chicago tower. The debts come due in 2023 and 2024.
Read View: Trump's Hotel in the Washington Swamp: Timothy L. O'Brien
Prospects may be brightening for Trump's new hotel in the nation's capitol, in a post office building leased from the government. Though it was losing money last fall when it opened and some critics questioned the legality of the Trump Organization doing business with the government, the General Services Administration said last week it had determined the company wasn't violating laws restricting elected officials' business activities."
(THIS IS A GREAT AND VERY INTERESTING STORY ABOUT OUR PRESIDENT, DONALD TRUMP, WHO GOES AROUND THE WORLD AND TELLS PEOPLE LIKE OUR NATO ALLIES THAT THEY MUST GET THEIR BILLS PAID.  DONALD'S BIG PROBLEM IS THOUGH, SINCE HE'S BORROWED A LOT OF MONEY AROUND THE WORLD TO RUN HIS BUSINESSES, THAT THE VARIOUS BANKS HE'S BORROWED MONEY FROM ARE GETTING NERVOUS ABOUT THE LOANS.  I UNDERSTAND HE'S BORROWED FROM GERMANY, RUSSIA, CHINA , JAPAN, AND MANY OTHERS.  SINCE HE REFUSES TO SHOW HIS FEDERAL INCOME TAX RETURNS, WHICH HAS ALWAYS BEEN A STANDARD FOR ANYONE RUNNING FOR U.S. PRESIDENT, HE NEVER SHOULD HAVE EVEN BEEN NOMINATED BECAUSE, LIKE FORMER SEC OF STATE HILLARY CLINTON SAID "WE DON'T KNOW IF HE'S A BILLIONAIRE OR BANKRUPT."  THIS IS WHY WE MUST HAVE A SPECIAL PROSECUTOR TO LOOK INTO THE TRUMP-RUSSIA CONNECTION BECAUSE HIS DEBT COULD BE SO SEVERE THAT COMMUNIST RUSSIA IS BLACKMAILING HIM.
LaVern Isely, Progressive, Overtaxed, Independent Middle Class Taxpayer and Public Citizen Member and USAF Veteran