The following is an excellent article written by Tom Schoenberg on the Bloomberg Businessweek website on May 17, 2017 titled "This is the Minefield Rod Rosenstein Is Navigating" and I quote: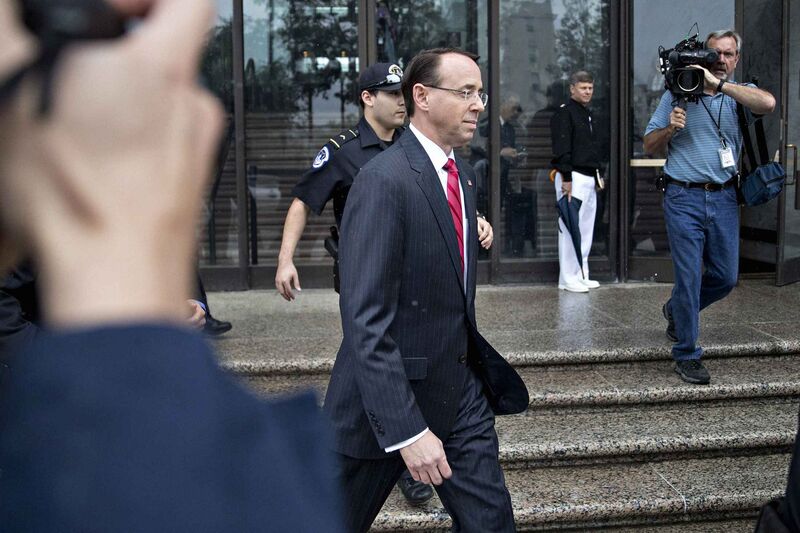 The day after signing off on the memo used to justify the firing of FBI Director James Comey, Deputy Attorney General Rod Rosenstein went to a going-away party for Mary McCord, a veteran prosecutor with more than 20 years at the Department of Justice, who announced in April that she'd be stepping down. As acting assistant attorney general for national security, McCord had day-to-day oversight of the investigation into whether associates of Donald Trump colluded with Russia. With Comey out, McCord was about to become the third person to leave who'd had authority over the Russia probe. Rosenstein's predecessor, Sally Yates, was fired as acting attorney general in January when she refused to defend Trump's executive order banning immigrants from seven mostly Muslim countries.
McCord's private send-off on the seventh floor of Justice Department headquarters had the usual fare—finger food and short speeches from top brass, according to two attendees. Attorney General Jeff Sessions was there, as was Comey's temporary replacement, Andrew McCabe. While Sessions schmoozed, Rosenstein appeared stiff and uncomfortable, the two say. Right after giving a toast for McCord, whom he's known for several years, Rosenstein slipped out the back door. He declined to comment for this story.

When nominated to be Sessions's deputy, Rosenstein was widely seen as a competent, apolitical prosecutor who could run day-to-day operations and keep the White House from interfering with the department's highly charged cases. He now faces questions over whether he was used by the president to remove the head of the agency investigating his campaign's ties to Russia. "It struck me as impossible that it was his decision to take such a dramatic step," says Doug Gansler, former attorney general of Maryland who's known Rosenstein for about 20 years.
A week after Comey was fired, new questions surfaced over Trump's motivations for removing him. During an Oval Office meeting in February, Trump asked Comey to drop an investigation into former national security adviser Michael Flynn, according to a person who was given a copy of a memo Comey wrote about the conversation.
The news introduces the possibility that Trump wanted to fire Comey for not shutting down the Flynn probe. And it complicates things for Rosenstein, who now must consider whether the president obstructed justice by attempting to influence an investigation. He also faces increased calls to name a special prosecutor to oversee the Russia probe. It's not a great situation for a guy who was already feeling in over his head, less than a month on the job.
Former Justice Department officials say Rosenstein misjudged the political hazards of Washington. According to one person familiar with his thinking, Rosenstein didn't anticipate that the White House would try to blame him for Comey's firing and took it as a slap in the face. Former Justice officials say the allegations he laid out against Comey in the memo were legitimate, yet they're left wondering whether Rosenstein was complicit in the firing or was used as a pawn by the White House—neither of which is befitting a deputy attorney general.
"Perhaps the most critical position in the department is the deputy attorney general because it's at the intersection of justice and politics," says John Arterberry, who spent three decades at the Justice Department. "Maybe this is just an example of how tough that position is, what it demands, and how tough it is to meet those demands."
With Sessions recused from anything involving the presidential campaign and Russia, Rosenstein is the highest-level U.S. official responsible for deciding the course of the investigation, including whether a special prosecutor should be brought in. He may soon have to deal with a slew of new decision-makers picked by Trump, who's moving to appoint people to permanent posts at the FBI and the Justice Department.
For now, the Russia investigation is being managed primarily by temporary officials who could be removed at any time—which makes Rosenstein all the more important. It will be up to him to look at whether new appointees of a president who's publicly called the investigation a "witch hunt" get in the way of possible charges. He'll also play a role in naming Comey's replacement. Rosenstein and Sessions interviewed candidates for the position over Mother's Day weekend.
The highest-ranking of the temporary officials is McCabe. Comey's former deputy joined the bureau in 1996 in its New York field office. He's held leadership roles in counterterrorism and national security and spent a stint running the Washington field office. During an intelligence committee hearing on May 11, McCabe called the Russia probe "highly significant," contradicting the White House claim that there's nothing to investigate.
McCabe may not be politically palatable to Trump. Last year he came under scrutiny for his oversight of the Hillary Clinton email investigation after it was reported that his wife had accepted donations from Democratic political organizations for a failed 2015 election bid for the Virginia Senate. The Justice Department's inspector general is reviewing whether McCabe violated any recusal policies. On May 2, Iowa Republican Senator Charles Grassley, chairman of the Senate Judiciary Committee, asked Rosenstein in a letter to answer questions about McCabe's role in several investigations, including the Russia probe, alleging that his political ties give him the appearance of bias.
After McCabe, the person with the most power over the Russia probe is Dana Boente, a longtime federal prosecutor whom Trump made acting attorney general after firing Yates. Boente currently holds two jobs: He's acting head of the Justice Department's national security division, and he's the U.S. attorney for the Eastern District of Virginia. Boente's dual posts (Comey said in Senate testimony that Boente's office in Virginia is one of the investigating agencies) give him the power to sign off on secret national security warrants as well as direct grand jury probes emanating from Virginia. But because he's an Obama appointee, it remains to be seen whether Trump will keep him in high-level positions likely coveted by Republican supporters.
The wild card is the U.S. Attorney's Office for the Southern District of New York. Formerly run by Preet Bharara, who conducted some of the most notable prosecutions of Wall Street after the financial crisis, the office hasn't said it's involved in the Russia probe, though many of the subjects of the investigation were working in or based in New York. Bharara, who'd previously said he'd been asked by Trump to remain on the job, refused to resign when the administration asked him to, so Trump fired him on March 11. Bharara's replacement, Joon Kim, spent a year running the criminal division of the Southern District of New York before rising to the office's second in command in 2015. Prior to that, Kim was a partner at a Wall Street law firm.
On May 11, 20 state attorneys general sent a letter to Rosenstein urging him to appoint a special prosecutor to run the investigation of Trump ties to Russia. Virginia's Mark Warner, the top Democrat on the Senate Intelligence Committee, has also asked for a special counsel. Thus far, Rosenstein has resisted. He is scheduled to brief the entire Senate on the Russia investigation on May 18. "This investigation is going to be watched as closely as anything that we've seen in recent memory," says Jonathan Biran, a Baltimore lawyer who worked under Rosenstein at the U.S. Attorney's Office. "I have to think that if Rod doesn't believe it's going well, he's going to take some action."
—With Chris Strohm
The bottom line: Rosenstein's reputation has suffered after his memo led to the firing of FBI Director Comey."
(REPUBLICAN PRESIDENT DONALD TRUMP CAN BLAME DEPUTY ATTORNEY GENERAL ROD ROSENSTEIN FOR THE FIRING OF FBI DIRECTOR JAMES COMEY BUT THE WAY I HEAR IT, PRESIDENT TRUMP HAD HIS MIND MADE UP THE DAY BEFORE.  THAT'S WHY I'M GLAD THEY ARE GOING TO HAVE A SPECIAL PROSECUTOR, ROBERT MUELLER, TO FIND OUT JUST HOW BAD THE RUSSIA-TRUMP CONNECTION REALLY IS.  I BELIEVE THERE ARE A LOT OF CONFLICTS OF INTEREST BECAUSE OF PRES TRUMP'S MANY BUSINESS INTERESTS.
LaVern Isely, Progressive, Overtaxed, Independent Middle Class Taxpayer and Public Citizen Member and USAF Veteran