The following is an excellent article written by Benjamin Bain on the Bloomberg website on February 5, 2018 titled "Bitcoin Draws Congress' Ire as Regulators Bemoan Oversight Gaps" and I quote:
"Bitcoin Draws Congress' Ire as Regulators Bemoan Oversight Gaps"
By
From
SEC and CFTC chiefs say they may need more power over crypto

Existing rules aren't adequate for exchanges: SEC's Clayton
The U.S.'s top market cops on Tuesday identified gaping holes in regulators' ability to police cryptocurrencies, opening the door for Congress to tighten oversight of what's become a global investment craze.
Lawmakers may need to to pass legislation that gives federal agencies jurisdiction over Bitcoin's spot market and the online platforms that digital coins trade on, Commodity Futures Trading Commission Chairman J. Christopher Giancarlo and Securities and Exchange Commission Chairman Jay Clayton said during a hearing before the Senate Banking Committee.
The regulators said the first step was for federal and state watchdogs to work together to come up with a coordinated plan for monitoring crypto exchanges, which have been beset with trading disruptions and thefts of coins that have rattled investor confidence.
"We may be back with our friends from Treasury to ask for additional legislation," Clayton said during the hearing.
Ramped up oversight and tough words from regulators have taken a toll on Bitcoin, the biggest digital currency. It has tumbled for five-straight days, and dropped below $7,000 on Tuesday for the first time since November. Giancarlo said the falling price reflects regulatory actions taken in recent weeks.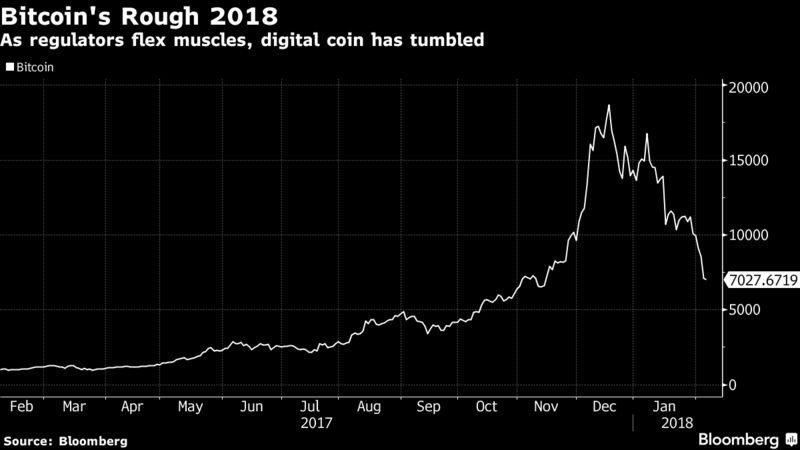 But there are limitations to the SEC and CFTC's reach. To the extent that virtual currency exchanges are policed at all in the U.S., they are governed by state rules designed for money transmission services. Authorities have become increasingly concerned in light of recent events such as the admission by a Japanese exchange that it had been robbed of more than $500 million in digital tokens.
Giancarlo and Clayton, Trump administration appointees who took office with mandates to dial back regulation, are trying to balance a desire to promote the kind of innovation that blockchain technology represents against the need to protect investors. At Tuesday's hearing on virtual currency oversight, they sought to assure lawmakers that they're doing both.
The SEC has been focused on so-called initial coin offerings, which Clayton has said are often securities offerings that should be registered with his agency. To date, none have completed that process, Clayton said. He added that he believes many ICOs are done illegally. In the offerings, companies sell digital coins that investors are supposed to be able to eventually redeem for goods and services. ICOs raised an estimated $3.7 billion last year.
'Off the Grid'
The CFTC identified Bitcoin as a commodity in 2015 and has used its anti-fraud authority to bring enforcement cases against platforms offering Bitcoin trading. The agency is also charged with overseeing Bitcoin futures contracts after two exchanges brought them to market last year.
Giancarlo said the CFTC's authority is largely limited to derivatives markets. He noted that spot market exchanges, where much of the trading occurs, doesn't fall under any federal regulators' jurisdiction.
"There was this perception that Bitcoin was off the regulatory grid," Giancarlo said during Tuesday's hearing. "One of the things that Chairman Clayton and I have been working so hard to do is disabuse that notion. We are limited in our regulatory authority to set regulatory standards on these underlying platforms. But, when it comes to enforcement, when it comes to ICOs, we're using core authority to drive the message."
Giancarlo added that the CFTC is preparing to bring more enforcement actions against fraudsters who have raised money from investors through digital coin scams."
(We must protect our commercial banks in our small towns because that's the only way we have to get cash and make loans. Cybercurrency seems like it's more for the elitist 1% who like to speculate on Wall Street. I hope Congress really thoroughly investigates it like California Democrat Senator Diane Feinstein and Iowa Republican Senator Charles Grassley are looking into. Though I imagine they will get lobbied by the big investment banks and Wall Street.
LaVern Isely, Progressive, Overtaxed, Independent Middle Class Taxpayer and Public Citizen Member and USAF Veteran